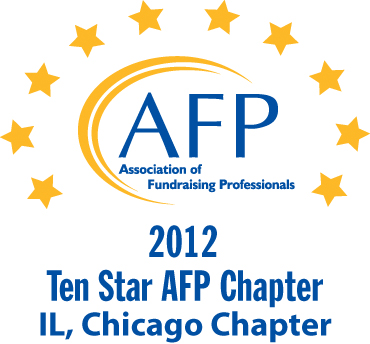 In This Issue...

---
CAN'T MISS EVENTS
Friday, April 19 - Find the Keys to Fundraising Success
Join AFP Chicago for breakfast and an educational program, Keys to Success: Partnering with Non-Development Staff to Fundraise.
Learn from leaders in development: Jill Koski, CFRE, Vice President of Development, The Morton Arboretum; Susan Brady, Research Coordinator and Clinical Educator,Marianjoy Rehabilitation Hospital; Kathleen Hechinger, Chief Financial Officer, Joffrey Ballet; and Penny Hunt, Senior Consultant, Marts & Lundy as they discuss the skills and key tactics necessary to partner effectively with non-development staff in order to engage these donors and prospects. Also, hear from non-development staff about their experience working with development to secure major gifts, what motivated them to help, and how you can incorporate these practices into your own development efforts. For more information, click here. You can register here.
AFP Chicago Features Honorees of the 2013 Philanthropy Awards Luncheon
On May 10th, AFP Chicago will proudly honor eight of the most distinguished leaders of the Chicago's philanthropic and nonprofit sectors at the 37th annual Philanthropy Award Luncheon. Please allow us to introduce you to two of the eight awardees today:

Penelepe Hunt - Benjamin Franklin Award Honoree
Known by her colleagues as a "master at knowing how people work and think," Penelepe Hunt (Penny) is a consummate professional with a keen understanding of fundraising and endless ambition for transformative results. Penny is a professional fundraiser, teacher, management consultant, executive coach and born leader with more than 25 years of experience in the development field. read more...
Allan B. Muchin - Executive Leader Award
Allan Muchin is the Founding Partner of Katten Muchin Roesenman LLP, a full-service law firm with over 600 attorneys, an active Chicago philanthropist and champion for the arts. As former director and regular contributor to the Katten Muchin Rosenman Foundation, Inc., Allan helped set the tone for the firm's philanthropic efforts and service to more than 300 nonprofits, including many of the area's leading arts organizations.read more...
Sponsorships are currently available for the Philanthropy Awards Luncheon. Please visit us here for more information, and save Friday, May 10th on your calendar.
AFP International Conference, San Diego April 7 - 9
Interested in attending the AFP International Conference in San Diego? AFP Chicago will be among the chapters recognized for chapter achievements at the International Conference in San Diego, CA April 7 - 9. For more information on the conference, visit the International Conference website.
Fundamentals of Fundraising Course Offered July 22 - 23
New to the development profession or have recently hired staff new to fundraising? Save the date for AFP's Fundamentals of Fundraising Course, to be held July 22 - 23 in Chicago. The Fundamentals Course offers a complete overview of the development function, featuring the most current information and techniques. This two-day, 16 hour intensive program will provide an overview of skills, techniques, and program components for individuals with 0 to 4 years of fundraising experience. Registration opens May 1 – mark your calendar for July 22 - 23! Follow us here for further details.
Special thanks to our generous sponsors CCS and Rush-Copley Medical Center!
Save the Date: The 18th Annual AFP Chicago Midwest Conference on Philanthropy
Network, learn and experience the innovations and trends that are shaping fundraising today at the AFP Chicago Midwest Conference on Philanthropy! Join us on Tuesday, October 8, 2013 at the DonaldE.StephensConvention Centerto rally together around this year's theme: Generosity – Gifts that Shape Us, Gifts that Shape the Future.
Make connections and gain knowledge and skills that will strengthen both your career and the field of philanthropy. Registration will open in June with an early bird rate offered through September 1st. Follow us here to stay up-to-date on speakers, sessions and other conference details as they become available.
---
Ethics in Philanthropy Roundtable – Photo Gallery
On Tuesday, March 12 AFP Chicago held the second annual Ethics in Philanthropy Roundtable at the Loyola University Chicago School of Law. Sponsored by The Chicago Community Trust, Advocate Health Care, and The Alford Group, the roundtable was facilitated by George Roe, Director of Business Ethics in the College of Business Administration at University of Illinois at Chicago, and included panelists Elinor Hite, Adler Professional School of Graduate Psychology; Terry Mazany, The Chicago Community Trust; Paul Pribbenow, Ph.D., Augsburg College; Rev. Alexander Sharp, Protestants for the Common Good; and Laura Washington, Chicago Sun-Times. Visit the Ethics in Philanthropy Photo Gallery today!
The Great Things About Mentoring - Clarity and Focus for Both People
The AFP Chicago Peer Mentoring Program delivers tangible benefits to both protégés and mentors. Randi Frank, CFRE, Director of Development with the Center For Enriched Living, and Dave Kunicki, now Director of Development with Mental Health America of Illinois, recently completed their year-long mentorship.
"Working with a mentor was a tremendous blessing in helping me achieve my career objectives," Dave said. "I began the process undecided as to whether a career in development was the right path for me. Randi's guidance helped give me the clarity and focus I was looking for. A few months into the process, I was offered my current position. I could not be more grateful to both Randi for sharing her leadership and expertise, and to AFP for connecting me with such a terrific role model. I look forward to becoming a mentor myself down the line, and hope to have a similar impact on the career paths of those I am matched with."
"It was a pleasure to be matched with Dave," Randi said. "We were both committed to the mentoring relationship and made the time and effort to get together monthly. At the start Dave was not employed as a fundraiser but was actively involved with several nonprofit efforts and considering which to pursue further. We were able to focus on his career path. I was glad to help Dave prioritize his goals and activities for the first year on the job. One of the great things about mentoring, is it reminds you of the best practices you know – but may not consciously remember you know – when you've been in the field a long time. Working with Dave was validating of my own experience, as well as inspiring to see development through his eyes. His energy and enthusiasm was invigorating and I learned a lot in the process."
AFP Chicago appreciates the sponsorship of this program from the School of Business and Nonprofit Management at North Park University. For 2013, AFP Chicago members will be offered new benefits from this partnership. Details soon!
Federal, State, and Chicago - April Government Relations Update
Submitted by: Krista Ravenscraft
Please click here to read this month's update.
AFP Offers Member Dues Installment Plan
Take advantage of this membership dues payment opportunity - the installment plan breaks dues into six payments. Please contact Joseph Roadarmel, AFP Manager of Membership Services, at [email protected] or (800) 666-3863 for details.

---
Making a Career Change? Take a Look at the Positions Available on the AFP Chicago Online Job Source
Are you a member planning a career change? Visit the AFP Chicago Online Job Source and review job postings from Chicago area not-for-profit organizations looking for skilled development professionals. Posting includes a full description of the organization, the position and expectations; salary range; benefits; and contact information. Take a look today - click here for more information.
Members will need to log in using their user name (email address) and passwords to see job postings on the website.
Looking for Skilled Development Professionals for your Open Position? List your Jobs in the AFP Chicago Online Job Source
Have an open position within your organization? Consider listing it in the AFP Chicago Online Job Source. The Job Source connects Chicago area not-for-profit organizations with skilled development professionals. This cost-effective listing reaches the right people in the philanthropic community. Your posting includes a full description of your organization, the position and expectations; salary range; benefits; and contact information, and the online format allows you to reach your targeted audience quickly. For more information, click here.

---
BUILDING COMMUNITY THROUGH PHILANTHROPY
Members on the Move
Find out who has recently joined AFP Chicago or changed jobs here.
Community Current Events and Announcements
Women and Leadership in the Nonprofit Sector April 18
Join the Axelson Center as it hosts a dynamic mini-conference focusing on the critical issues and challenges facing women in the nonprofit sector. The opening plenary will be led by Alice Eagly, co-author of Through the Labyrinth: The Truth About How Women Become Leaders. Panel discussion and luncheon follows. $100 registration fee includes course materials and lunch. 20 percent discount when two or more people from the same organization attend. Location: Holiday Inn Chicago Mart Plaza. Read more and register.

Science of Philanthropy Idea Contest – Deadline June 14, 2013
The Science of Philanthropy Initiative (SPI) is a research and outreach initiative based out of the University of Chicago. SPI partners with philanthropic organizations to understand why people give and how to improve fundraising techniques. Any 501c3 nonprofit involved with fundraising activities are encouraged to apply. The top prize is $5,000.00. Click here for more information.
Young Nonprofit Professionals Network of Chicago (YNPN Chicago)
YNPN Chicago serves local nonprofit professionals (generally in their 20s and 30s) who make up a substantial segment of the Chicago area's nonprofit workforce. Interested in learning more about YNPN?

Click here

for information and a list of their upcoming activities.

A Force for Good Mentoring Program Seeks Mentors for Community-Based Organizations (CBOs) – – Application Deadline Extended through June 30, 2013.
The Chicago Police Department and its partner agencies have developed this program to provide 35 Chicago CBOs with skill-building classes, technical assistance and mentorship to increase their capacity to identify, obtain and manage grants and other funding. For more access the application, please

click here

.
North Park University Offers AFP Members 40% Tuition Scholarship
To learn more about this great opportunity,

click here

.
Network With Us!