September Breakfast Program
Leveraging Technology for Increased Donor Engagement
Friday, September 12, 2014 at Maggiano's Chicago

Join us as we learn from both tech experts and our peers in field, not only about opportunities and successes using new technology, but also how to strike the balance between technology and meaningful engagement.
Register today...
Thank you to our generous sponsor

---
Government Relations Breakfast
Philanthropy and The Government
Thursday, October 2, 2014 at Petterino's
How public policy affects fundraising and the nonprofit sector, and why AFP members need to be alert and engaged
Join a discussion led by Jason Lee, General Counsel for AFP International, and Bob Carter, AFP International 2014 Chair about AFP's perspective on issues at the federal level, and about AFP's advocacy platform, including direct lobbying, grassroots lobbying and the AFP Political Action Committee.
---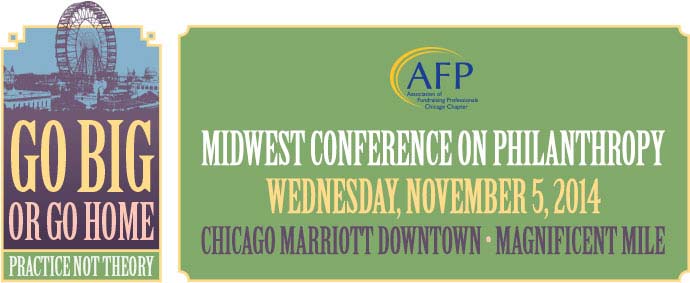 Two Months Away, Two Reasons to Register Today!
In two months, The Midwest Conference on Philanthropy will welcome fundraising professionals from throughout the region who will share their expertise in the field. Two such professionals, Jim Emlet, Principal and Co-Owner, Integral, LLC and Marilyn Foster Kirk, CFRE, Vice President, The Alford Group, will present Data Driven Fundraising – How to Use Your Data Effectively at this year's conference.

Learn more about this Feature with this end result...you'll learn how to use data mining to maximize the results of your day-to-day fundraising work, here.
Register Today - Before the Early Bird Flies Away!
Take advantage of early bird rates by September 15, 2014! Learn more and register
Special thanks to our dedicated Midwest Conference on Philanthropy sponsors. #AFPCGoBIG
---
2015 Faces of Philanthropy Awards Luncheon
Now Accepting 2015 Nominations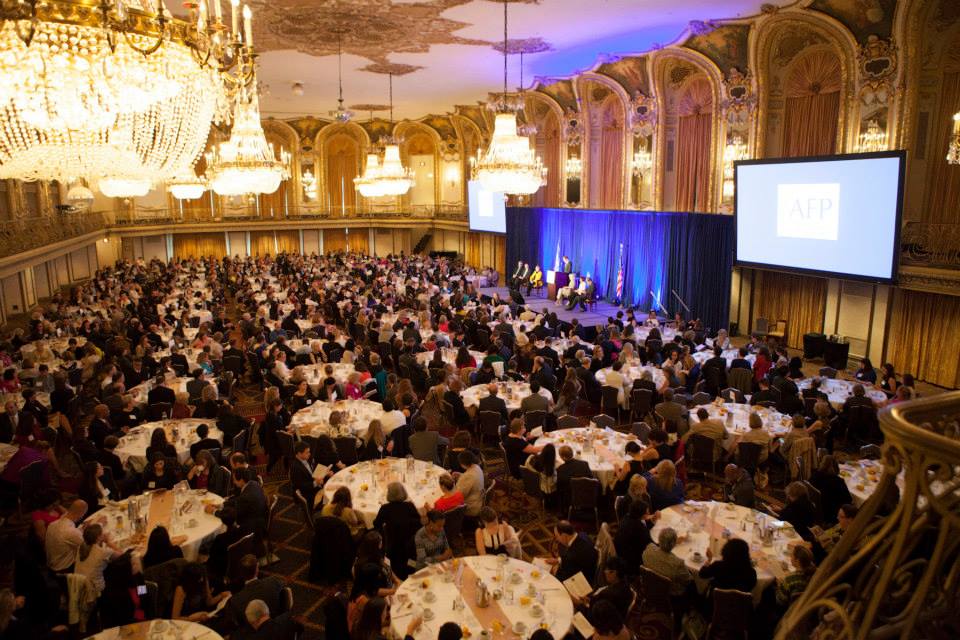 The 39th Annual Faces of Philanthropy Awards Luncheon will take place on May 1, 2015 at the Hilton Chicago. We are currently accepting nominations for the 2015 Philanthropy Awards. If you'd like to nominate someone, please click here.
---
Calendar of Events
Visit the AFP Chicago 2014 Calendar
Member Resources
Online Job Source

Peer Mentoring - Last Call for the Fall Mentoring Class


Members on the Move

Ethics Resources

AFP International

Join AFP Today

Update Contact Information


Spotlight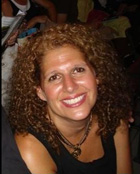 Q & A with Stephanie Borash, Associate Director, Corporate and Foundation Relations at Ravinia Festival, Member of Our Board of Directors and 2014 Midwest Conference Co-Chair
Read on to hear from Borash about her career as a fundraiser and why she's excited about the Midwest Conference on Philanthropy - Go Big or Go Home: Practice not Theory.

Read on...
Community Links
Axelson Center Professional Development Programs


Young Nonprofit Professionals Network of Chicago (YNPN Chicago)

Network with Us!
Welcome 2014 Partners!


Advocate Health Care
Campbell & Company

The Alford Group and
Maree G. Bullock,
Alan Bullock, Sean and
Ann Reardon
Allstate Insurance Company
CCS
Mesirow Financial
Rush-Copley Foundation
---
Member News

Networking Opportunity
October After Hours Free to Members and Guests
Wednesday, October 15, 2014, 5:30 -7:30 at The Scout
Stop by after work for informal drinks, networking, and camaraderie between AFP members and friends.
---
2015 Chicago Fellows Program Application Deadline October 20, 2014
Interested in learning more about The AFP Chicago Fellows Program? We are delighted to announce a call for applications for the 2015 program session. Applications for this program are due on Monday, October 20, 2014. More information about the program can be found here.
Members of the current 2014 Fellows Program include Rebecca Centioli, KIPP Chicago Schools; Jessica Harris, The Cara Program; Andrew Sutherland, CommunityHealth; Cynthia Tapper, University of Chicago; Carlos Trejo, Cicero Catholic Schools; and Holly Urban, One Million Degrees.
---
Save the Date
Member Recognition Reception
Thursday, December 4, 2014 • Sunda ~ Further details coming soon!
Sponsorship opportunities are still available.
---